Become an affiliate for my e-books and earn 50% of all PDF sales made through your referral link!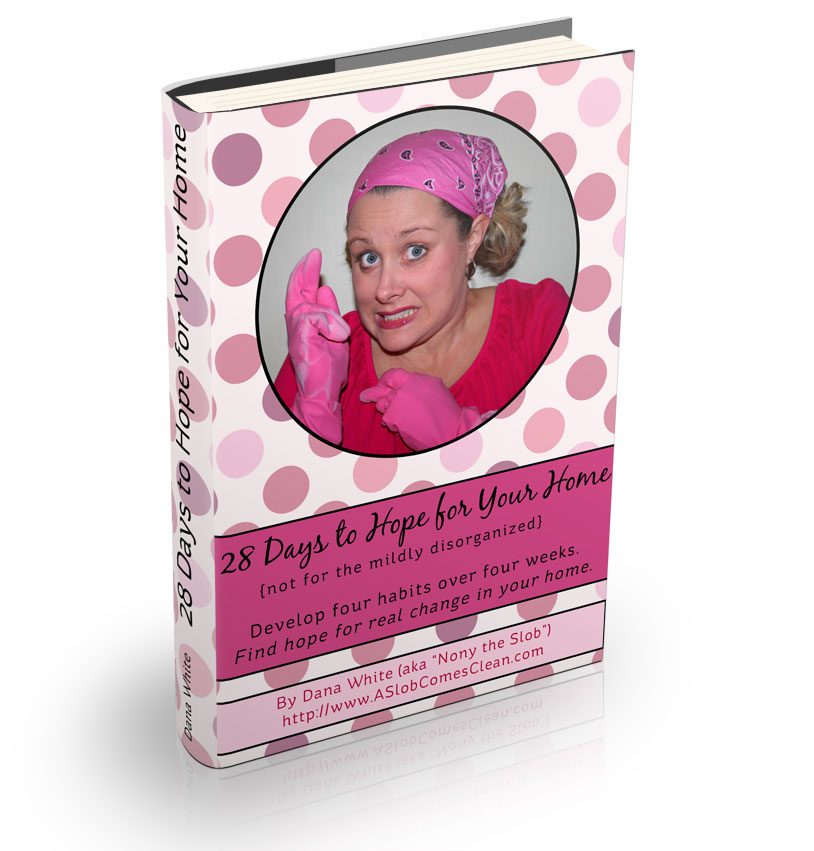 Step 1: Sign up as an affiliate through e-junkie.  It's simple.
Step 2: Share 28 Days to Hope for Your Home and Drowning in Clutter? with friends, blog readers, and random people you meet in the grocery store.  If they click your unique affiliate link and purchase the PDF e-book, you'll earn 50% of the price that they pay!  (Also be sure to link to the Kindle versions using your Amazon affiliate link.)
Step 3: Get paid! There is no minimum payout, and you will be paid via PayPal the following month for all PDF sales.  For example, this means that the commission you earn in February will be paid in March.
Many people get discouraged because resolutions to get their homes under control seem unattainable.  They've tried before and failed.
They're hopeless.
It's almost impossible to make progress organizing or spring cleaning when kitchen counters are covered in dishes and floors are knee-deep in toys.
Both of my e-books (28 Days to Hope for Your Home and Drowning in Clutter?) are targeted to these people.  28 Days helps even the most overwhelmed housekeeper develop basic habits that will bring her home out of Disaster Status.  Drowning in Clutter? gives practical decluttering strategies that ANYONE can use in any home.
I consider these companion e-books. Clutter can make daily habits seem impossible, but without daily habits . . . it's almost impossible to maintain any decluttering progress you make without keeping up with daily habits! 
Join our Affiliate Program! (The affiliate program is under: Dana White.)
You can promote one e-book or both!  They sell individually for 5.00, or as a set for 8.00.
You earn 50% of the purchase price for PDF sales.
I recommend that you casually mention that the e-books are available on Amazon and use your own Amazon affiliate links.
Ideas for promoting Drowning in Clutter?:
Most people have "Declutter" on their list of New Year's Resolutions.
Share your own struggles in decluttering.
Ask if your readers are overwhelmed with the amount of new stuff that entered their home over the holidays.
Ideas for promoting 28 Days to Hope for Your Home:
Are you discouraged that your New Year's Resolutions to get your home under control aren't working out the way you hoped?
Be ready to do some real spring cleaning this year!  Use February to discover hope for your home!
Is the thought of deep-cleaning a joke to you because surface cleaning overwhelms you?
I say that 28 Days is "not for the mildly disorganized," but many self-proclaimed Organized People recommend it as a great resource for staying on top of the basics that will keep your home running smoothly.
Drowning in Clutter? has practical strategies that ANYONE with any amount of clutter can use.

Feel free to take any quotes from 28 Day's landing page or Drowning in Clutter?'s landing page and up to fifty words from the e-book itself.  I do ask that you do not reveal more than one of the habits or one of the decluttering strategies in your post.  (Gotta give them a reason to buy, right?)
I also created a youtube video (less than one minute) about 28 Days.  Feel free to embed it in a post!
Tips for increasing sales:
By far, the most effective way to sell any product is to share your personal, positive experience with it.  Write a post about the e-book, following the guidelines above.
If you write a post, make the only links within the post your affiliate links.  If you say something like "Nony of A Slob Comes Clean has written an e-book" don't link to my homepage.  I know it feels strange when you're used to linking to someone you mention, but in this case you only want them to go to my site through your affiliate link.  Otherwise, they might go to A Slob Comes Clean looking for the e-book, but if they're not getting there through your affiliate link, you won't get the credit when they buy.  Also be sure to include your Amazon affiliate link within your post to the Kindle version.  This way, if they're interested in the Kindle version, they'll get there from your affiliate link and you'll get that commission.
Emphasize the sale price/percentage off. People are more likely to buy when they see that an item is on sale and when they know when the sale will end.  State that the sale ends on XXXX date.
Join our Affiliate Program! (The affiliate program is under: Dana White)
Every time you post your affiliate link, be sure to disclose that it is an affiliate link!  It's the law!
More promotion ideas for Organization/Home Management Bloggers.
More promotion ideas for Deal/Frugal Bloggers.
More promotion ideas for Family/Home Bloggers.
Remember, you earn 50% of all sales made through your affiliate link!  There's no limit to how much you can earn!
If you'd like to use one of my buttons, feel free!
(See below for instructions on attaching your affiliate code to a button.)
250×250
150×150
150×150
125×125
This video by Blogging With Amy explains how (in WordPress) to attach your affiliate code to the images so that your readers can click the image and come to the book's landing page through your affiliate link.  If you can't see the video, click here to view it on YouTube.
Join our Affiliate Program!
In Blogger, there are two options for putting an ad button in your sidebar:
Option One:
Follow the advice in the tutorial above, but use a site like Photobucket to host your image in place of uploading it as a media file like you can do in WordPress.
Go to "Layout" in your Blogger dashboard and click on "Add a Gadget" in your sidebar.
Click the plus sign by "HTML/Javascript" and add the html that you created by following Amy's tutorial.
Test that the image is clickable and will send your readers to my landing page.
Option Two:  (If HTML scares you.)
Right click on the image below that you want to use.
Click on "save image as" and save the image to your computer.
Go to "Layout" in your blogger dashboard, and click on "Add a gadget" in your sidebar.
Click on "picture" and upload the image from your computer.
Put the link to your own post on your blog where you talked about the e-book.  Within that post, be sure your text affiliate link is prominent and inviting.
If you're new to e-junkie, here are a few tips for using your unique link.
Log in to your e-junkie account.
Click on the blue "Affiliates" tab at the top right.
Click on "Log into Affiliate Admin" in orange mid-page.
Click on "Get Affiliate Code."
Click on the dropdown and then click 28 Days to Hope for Your Home.
Click "Get Affiliate Code" again.  (An orange button)
Copy the red code that is in the orange-y box.
On your blog, paste that code in the html view of your post editor.
This will create a text link that you will see in the post and in the "Visual" view in WordPress and the "Compose" view in Blogger.
Join our Affiliate Program!