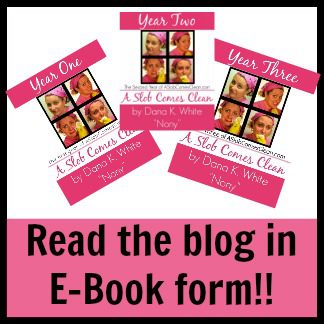 I loooove hearing from readers who are following my advice to read the blog backwards.
Confused?
I recommend that someone who is completely overwhelmed (and therefore super-duper skeptical that there's any hope for real change) in her home start at the beginning of the blog.
The beginning of the blog happened in August of 2009. I was overwhelmed and frustrated and desperate. I started it anonymously (I didn't even tell my husband), hoping I could use my burning desire to write as motivation to stay focused on figuring out why my house was out of control and how I could change that.
It was my practice blog.
Now, six years later, I've come a LONG way. I've written instructional books like How to Manage Your Home Without Losing Your Mind and Decluttering at the Speed of Life. I've figured out a lot of things and have made real, lasting changes.
So . . . it's possible you could land on this blog through a post like this one and think, "She doesn't get it. She can't imagine what I'm actually dealing with in my home."
Maybe not.
But reading from the beginning might just show you that I do. It will take you through the discoveries I've made during this deslobification process AS I made them.
Since the very beginning, people have been reading backwards. I love getting comments on old posts. But a few years ago, I started getting requests to put the blog in e-book form to make it easier to read. You can totally read backwards for free (which is what I, the eternal cheapskate would do), but some people are willing to fork over some cash to avoid all the clicking from post to post. Go here to learn how to read backwards for free.
Also, an e-book lets you read when you're not online.
At this point, I have Years 1-3 available in e-book form. You can purchase the set of three for $25.
Get Years 1-3 together here for $25.