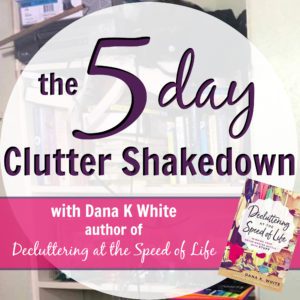 The beauty of decluttering is that it lasts. While dishes get dirty again almost immediately, once stuff leaves my house, it's gone. Not that more stuff doesn't appear. It totally does. But the more I declutter, the better off (and easier to keep under control) my house is.
When I started my deslobification process, I didn't know what I was doing, but I knew I had (way) too much stuff. In the process of getting that stuff out of my house, I worked through the emotional roadblocks that had always made decluttering so difficult for me. I created strategies and steps that helped me be able to work through any mess, no matter how overwhelming.
I had to. Every space in my home overwhelmed me.
All those strategies and mindset changes are in my new book, Decluttering at the Speed of Life.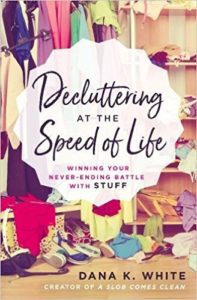 In this book, I tackle the mindset changes I had to go through to make real and lasting progress. I lead you, step by step, through the different spaces in your home and face the challenges of those spaces head on. I walk through the steps and how they work when helping friends, your kids, your older relatives or your spouse declutter.
I'm so excited about this book. While the writing process was crazy (short deadline during which a LOT of life happened), I love how it turned out. Decluttering at the Speed of Life is exactly the book I wanted to write, and I laughed out loud so many times when I read through the final copy. (Yes, I laugh at my own jokes.)
My very favorite thing about this book is that it lives up to its name.
Whether you have 5 minutes, 5 hours, or 5 days available to declutter, you can make real decluttering progress in your home. The steps are designed to only produce progress. Never a bigger mess. Even in the midst of real life.
But why shouldn't you just wait until it comes out on February 27th??
If you pre-order Decluttering at the Speed of Life and enter your pre-order information into the claim form, you will get immediate access to The 5 Day Clutter Shakedown, a mini-course I created to help you start decluttering now!
It's a video course, but I've also included audio-only files and transcripts of each video for those with different learning styles and different internet capabilities.
In The 5 Day Clutter Shakedown, I talk you through (and demonstrate) the five steps to decluttering an overwhelming mess. ANY overwhelming mess. You'll see the improvement each step makes. Use this to go ahead and get started decluttering in your home. Make progress now, and when you get the book at the end of this month, you'll be ready to dive deep into the whole process and implement lasting changes in your home.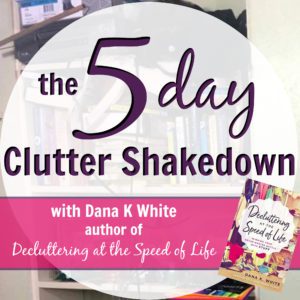 UPDATE: Decluttering at The Speed of Life is now available wherever books are sold, or learn more HERE. The bonus offer has expired but you can still get The 5 Day Clutter Shakedown video course HERE. It walks you through my decluttering methods step-by-step.
How do you get The 5 Day Clutter Shakedown (a $30 value) free? Pre-order Decluttering at the Speed of Life and then fill out the form with your order number. It's that easy, but you MUST FILL OUT THE FORM. That's the only way we have your order information, as retailers don't share buyer's details with us. After you submit the form, you'll immediately see the link to the mini-course and the coupon code you need to get it for free. You do not need to enter any payment information, just use the code and sign up for entry into The 5 Day Clutter Shakedown.
Go here to find where to pre-order (which is anywhere books are sold, but this page has the direct links) and the form to fill out to claim your free 5 Day Clutter Shakedown.
There's even a link to a local-to-me Dallas bookstore where you can order a signed copy!
Happy Decluttering! And let me know if you have any questions!
--Nony