There's a difference between a ridiculously cluttered table and a table with stuff on it.
Even a table with too much stuff on it.
Oh. You don't think there is? Well, it's my blog and I say so. There is.
Oh the dining room table. The bane of my Slob Existence. The glorious flat surface just inside my front door that doesn't HAVE to be used on an average Wednesday so it's always available for absentminded (and sometimes present-minded) piling.
But even though this uniquely re-clutterable spot shouldn't qualify as a real decluttering project since it's everyday procrasticlutter, I tackle it using my same old decluttering strategies. When I can tackle it that way, I'm ever so much more willing to tackle it at all.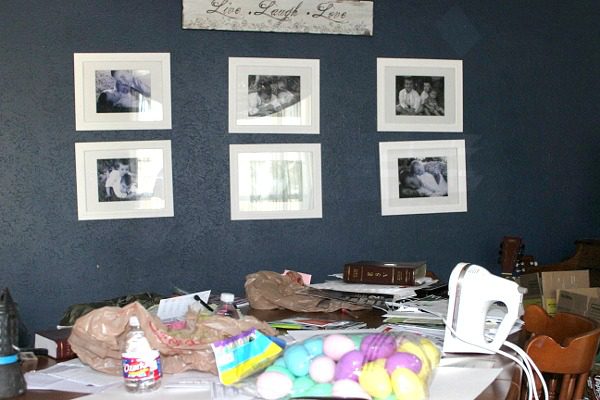 And tackling is the only way.
Step One:
Trash. Trash is the easiest of the easy stuff.
Once the trash was gone, I took the OBVIOUS stuff (which is ever so easy once I see it as individual items instead of a mass of overwhelming STUFF) where it goes. No decisions necessary. Just a bunch of duhs. A bunch of well-yeah-I-know-where-that-goes kind of stuff.
Then, the piles were smaller, but I wasn't quite in the mood for a solve-it-all kind of thing, so I settled.
I settled for better. My goal was to be able to let someone in the front door and have them think, "Oh, I just love how Dana didn't feel the need to clean before I came over. We must be close. Like, almost BFFs. I sure like Dana."
So I consolidated and straightened. A little.
It's better, y'all. Better is good.
Note: If you came over and it looked like that, we're BFFs. Really. This post wasn't talking about you.
Another note: Obviously, it didn't even occur to me to straighten the frames on the wall. Sorry OCD friends, but you get what you get when you venture to my Slob Blog.
--Nony