UPDATE: I am so sorry to say that this product is no longer available. If I find another that works as well, I'll let you know!
ANOTHER UPDATE: I've realized that the amazing scrubby sponges are a big part of what made an impact on my tough cleaning jobs. Here are my affiliate links to some sponges that I've found on Amazon which work like the ones sent with the Clutter Cleaner:
Click here to see them on Amazon: O-Cedar Multi-Use Scrunge Scrub Sponge (Pack of 6)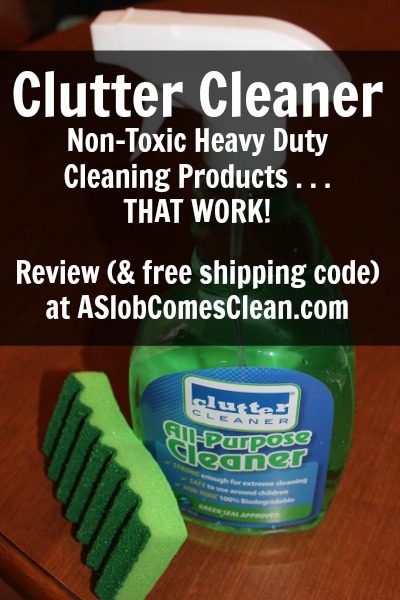 Disclosure: Clutter Cleaner sent me these products to try and I do make a commission when someone orders them and uses my special free-shipping code.
I have been excited and nervous about writing this review.
Excited, because when I first heard about the product, I realized there could not be a better fit for my blog.
Nervous, because I was skeptical. I was afraid my high hopes would be dashed.
Let me give a little backstory. I was contacted by Clutter Cleaner about advertising on my podcasts.
Here was part of their introduction: "Matt's cleaned the messiest homes in America and now he's created his own line of cleaning products. Your listeners will love how powerful AND environmentally safe the Clutter Cleaner products are."
Who's Matt? Well, he is Matt Paxton, the extreme cleaning specialist featured on the show . . . HOARDERS.
Yes, that show.
This quote particularly grabbed me:
Matt Paxton spent the last eight years cleaning up the messiest homes in America. The nastier the homes got, the more dangerous the cleaning products became. He wanted to find something that was powerful enough for his toughest jobs, but safe to use at home and around his kids. He  couldn't find anything — so he created his own.
And that was when my glimmer of hope began. Maybe . . . he gets it. Maybe he understands what it's like to tackle a cleaning job that normal people couldn't even imagine.
(If you're already convinced you need these products, be sure to scroll to the bottom of this post to get the code for free shipping.)
I asked if I could test the products and review them here on the blog. I didn't want to advertise them unless I knew they really worked.
They arrived last week, but I waited until Tuesday . . . since that's Bathroom Cleaning Day. 
Following the instructions, I put water in one of the bottles they sent and added one packet of cleaning solution.
I started out spraying the counter in my kids' bathroom and wiping off toothpaste splatters. It worked fine, but toothpaste splatters aren't hard to clean.
But then . . . when I casually wiped down the not-too-bad-so-I-didn't-take-before-pictures sink handles in there, I gasped.
That little bit of hard and calcified stuff that I gave up on ever getting clean a LONG time ago? It came right off.
I might have said aloud, "You have got to be kidding me!"
I ran (literally) to my half-bath and took some before pictures of those faucet handles. (The ones with a LOT of hard and calcified ickiness.) Perhaps you remember I've tried to clean them before.
And couldn't.
Seriously, I had given up on them ever sparkling again. But I sprayed them with the Clutter Cleaner all-purpose spray, waited the recommended thirty-seconds, and started scrubbing with the provided sponge.
The layer of rock-hard ickiness . . . began to flake off.
I was starting to get excited.
I ran (for real) back to the kids' bathroom and sprayed the spot on the floor in front of their toilet that has been stained/ruined forever. Seriously, I've tried cleaning wipes, elbow grease, mopping, and all sorts of cleaning products on that spot with no success. I had given up on it.
A bit later, I gave it a MINOR scrub with the sponge.
The wee-wee stain? It . . . came . . . right . . . off.
I might have said, "Oh my word. I canNOT believe this."
I started tackling every difficult and icky and embarrassing spot I had.
And I have a lot . . .
Yes, I've been cleaning my bathrooms (mostly) consistently for the last month. But as someone who goes through periods of time (like . . . last summer) when bathroom cleaning moves right off the bottom of the list, there are some spots that have caused me to lose hope.
Spots that nag at me. Spots I know I'll have to fix someday even though I have no idea how.
Here are a few more:
Y'all, this stuff works.
A non-toxic, eco-friendly, AND heavy-duty cleaning product that really works??  That's a big deal.
One of my personal VERY BEST excuses (and one that I regularly hear from readers) is that toxic cleaning products are scary.
Obviously, the best way to successfully use mild cleaning products is to use them consistently. But as someone who suffers from Time Passage Awareness Disorder, consistency is a bit of a struggle for me.
And so then the endless cycle goes on.
My fear of cleaning a scary spot with toxic cleaners keeps me from cleaning it. It gets scarier.
So I think I need something even more toxic. So I'm more scared.
See why I'm so excited about these products?
Other (somewhat random, but totally important) observations:
These products, though amazing, don't eliminate the need for muscle. You can't just stick your arm through a barely opened door, spray twice and have a sparkling bathroom. Really icky spots required scrubbing. Really, really icky spots required multiple applications and lots of scrubbing.  My carpal tunnel has been pretty bad since Tuesday.
I still got really sweaty, had to lay on top of the toilet and reach behind it, and quit before the entire bathroom was perfect from top to bottom.
The all-purpose cleaner does have a VERY light scent that I couldn't quite identify. It did not, however, irritate my overly-sensitive allergies. I also did not smell it when I walked back into the house later in the day after leaving to pick up kids from school. My daughter couldn't smell anything when I asked her.
I did not use gloves, and the skin on my hands hasn't been irritated or peeled at all. (Like it has with some other products.)
This stuff works. It took care of issues I had assumed would require something scary.
Oh, and the sponges that came with the products looked lame to me when I first saw them. I WAS WRONG.
When I tackle really bad cleaning jobs, I generally wear out sponges in a single cleaning session. That picture above was taken AFTER cleaning all the things in the pictures above (plus more).  The sponge looked exactly like it did when I started.
So how much does this amazing product cost and what do I get?
It's 34.95.
I know. That sounds like a LOT of money. But it is supposed to be a year's supply of both the all-purpose cleaner and glass cleaner (which I haven't tried yet).
You receive:
2 reusable spray bottles (they come empty and you fill them with water)
7 refills of all-purpose cleaner (just add it to a spray bottle filled with water and shake once)
3 refills of no-streak glass cleaner
2 Clutter Cleaner Super Sponges (which are amazing)
AND I have a special code that will get you FREE SHIPPING.
The code is: SLOB
Click here, go to the bottom of the page and click on "Podcast Listeners Click Here to Enter Your Coupon Code."
If you haven't been listening to the podcasts, it's okay. They said all of you can use the code SLOB for free shipping.  And when you use that code, I make a commission.
Now for the disclosure statement:
I wasn't paid to write this review. I'm only paid a commission when someone uses my special code ( SLOB ) to place an order. I really do love this product. I get a warm, fuzzy feeling when I see someone identify a real problem and then solve that problem. I feel like that is what Matt Paxton has done with this product. This product doesn't eliminate the need to clean, but it makes it possible to clean. If you identify with any of the before pictures in this post, I think you'll understand what I mean by that.
After some questions, I'm adding this pic of the back of the bottle. I'll try to come back later and list out the ingredients:
--Nony